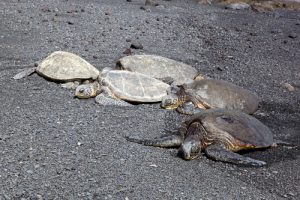 Will my child enjoy the tour?
Yes! At our facility, children are able to get a captivating, one-on-one experience allowing animal lovers of all ages to engage with some of our unique creatures.  Furthermore, our experienced tour guides are able to cater the information to include all age groups and knowledge bases to ensure an enjoyable and educational experience for everyone. 
Can I touch the sea turtles?
No. All sea turtles are federally protected under the Endangered Species Act, resulting in only permitted personnel being able to handle and care for our sea turtles. This is strictly enforced throughout our facility and will result in the immediate termination of the tour and any violators will be escorted out of the facility without a refund. Furthermore, sea turtles have extremely powerful jaws to allow them to crush crab shells and fish bones and could potentially bite anyone who reaches into the tanks. 
Can I feed the sea turtles?
No. Feeding of any of the animals on the property is strictly prohibited. All of our animals are on a very strict diet monitored closely by our personnel and any unauthorized feedings could be harmful, if not fatal, to some of our animals. However, we do allow visitors to observe our volunteers during feedings! 
Is TSC pet friendly?
No. Due to permitting issues and the safety of our animals, we do not allow any pets or service animals in our facility. 
When do you release turtles?
Our sea turtle releases are based upon the individual readiness and progress of each sea turtle patient. We will announce all upcoming releases on our social media and website pages, so be sure to follow us on Facebook and Instagram and check in with our website regularly! 
Can I touch the education animals? 
Do you accept donations? 
What payment methods do you accept?
We accept cash, checks, debit cards, and/or credit cards for all of our services such as admissions, donations, gift shop purchases, patreon memberships, etc. 
Is the Texas Sealife Center wheelchair accessible?
Yes. Our facility is wheelchair accessible and there are designated handicapped parking spaces provided for those in need. 
Is the Texas Sealife Center stroller accessible?
Yes. The facility is equipped with ramps to allow for wheelchair and stroller accessibility. 
Are we allowed to bring outside food and drinks?
Yes, it is encouraged that visitors bring their own water as the majority of the tour is outdoors and may be very hot. We do not sell any food or drink in the facility and there are no vending machines or drinking fountains present. 
Do you sell food or drinks in the facility?
No. We do not sell any food or drink in the facility and there are no vending machines or drinking fountains present, so it is encouraged that you bring any food and drinks you may need during your visit.